Meet this flavorful, soul-soothing Spring Minestrone Soup. 
There's a time of year that speaks to my soul – birds chirp, crisp mornings transition to warmer days and vibrant shades of green paint a landscape that just weeks ago was barren. Farmers markets come alive with the best of the season's produce and the promise of renewal lingers as the days grow longer. Such a swell season is spring that it only made sense to create a recipe that captures its flavors so beautifully.
This healthy soup recipe is packed with seasonal vegetables, small bites of pasta, hearty white beans, fresh herbs and bright, fresh lemon. As lovely as those elements and ingredients are, this soup broth is over-the-top delicious and nutritious. Truth be told, it's guzzle-worthy. 
Why You'll Love this Spring Soup Recipe
If you're not yet convinced that this minestrone soup recipe is worth a try, let's "spring" our way into all the reasons we think you're going to love it.
It's versatile. Use this recipe as a guide for a soup that features your favorite seasonal vegetables.
It's quick and easy. This recipe isn't necessarily set-it-and-forget-it easy, but close enough. Dinner is on the table in less than an hour and the majority of that time you're not hovering over a hot stove.
It meets numerous special dietary guidelines. Gluten-free, sugar-free, low-sodium, plant-based, vegetarian and is easily modified for oil-free diets. Frankly, it's just an all-around crowd pleaser.
It's meal prep friendly, freezer friendly. What's more, a little advanced prep goes a long way in putting a nutritious, soul-soothing soup on the table on a busy weeknight.
How Seasonal Vegetables Elevate This Recipe
Whether you make this recipe in spring or summer or use it as a guideline for creating a wonderful winter minestrone soup, using seasonal ingredients at the peak of freshness and flavor will boost the flavor and nutritional value of this minestrone soup recipe.
From a nutritional standpoint, seasonal ingredients pack a punch with essential vitamins and minerals. Certainly, you're going to enjoy this soup even if you are using frozen vegetables. However, if you have access to local farm fresh produce, we highly recommend you make this minestrone soup with what's available. The same is true of fresh herbs. They impact the freshness and flavor of the recipe, but dried herbs are always perfectly fine in a pinch.
If you can support a local farmer, use this recipe to feature the best of their seasonal produce offerings. The farmers market is a great place to find out what's local and seasonal to your area. It's also notable that seasonal ingredients are typically more budget friendly than out-of-season produce and provide a wider selection of produce at large.
Spring Minestrone Soup Recipe Ingredients
Here's your list of ingredients with a few notes and modifications. Remember that you can –and should! – do a little switcheroo if you have access to different seasonal vegetables. Use what's fresh and available and you'll be putting this spring soup recipe on your dinner rotation all year-round.
Leeks – Yum! Use the white parts only. Shallots are also good here. I love spring onions so I'll often use that, too. A white or yellow onion is fine if that's what you have on hand.
Garlic – No explanation necessary, in my opinion.
Celery – I like mine with a bit of a crunch so sometimes I add it closer toward the end. See recipe notes for more details.
Zucchini – I use baby zucchini when I can find it because it's so darn adorable, but use what you have. Crookneck squash and yellow summer squash also work wonderfully.
Carrot – Add extra nutrients by using organic carrots. Scrub them clean, but no need to peel. That's where lots of the good stuff comes from, after all.
English peas – We have access to a variety of fresh and crunchy spring peas here in North Georgia, but we realize that's not the case for everyone. Frozen sweet peas are a fine substitute.
White beans – Cannellini and great northern beans are my favorites, but navy beans, butter beans and even lima beans work well here. The choice is all yours!
Small pasta – Also many choices for the type of pasta. I like ditalini but any small pasta variety works, such as acini de pepe, orzo and small macaroni. For a lower carb soup option, eliminate the pasta and bulk up on a few of the veggies.
Vegetable broth – Lower sodium is always our top choice but use what works for you and your family.
Lemon – A squeeze of fresh lemon juice really brings this minestrone soup to life.
Fresh herbs – Give us all the fresh herbs! Choose your favorites. Dill works particularly well in this recipe, but that's just one opinion.
Salt and pepper – To taste
Extra-virgin olive oil – Just a drizzle should do the trick.
Spring Minestrone Soup: Frequently Asked Questions
Is this a gluten-free recipe?
Yes, this recipe leans on plant-forward whole foods that are naturally gluten free. I use gluten-free pasta, however you'll want to check the label of your chosen pasta.
Is this a plant-based soup?
Yes, this healthy soup recipe meets guidelines for vegan, vegetarian and plant-based diets and lifestyles.
Can I make this recipe oil free?
Yes, use water or broth in place of the olive oil when sautéing the vegetables.
Is this a low-sodium recipe?
We have intentionally made the recipe without a great deal of added salt; however, there is salt in vegetable broth as well as in white beans. For that reason, we consider this recipe low-sodium but it is not sodium-free.
Can I make this soup in advance?
Yes, absolutely! If you're making this easy soup recipe for meal prep or in advance of serving it, cook and store the pasta separately and add it to the soup during the reheating process before serving.
Does this soup recipe freeze well?
Yes! In fact, I recommend it. Freeze this soup for up to 3 months.
Print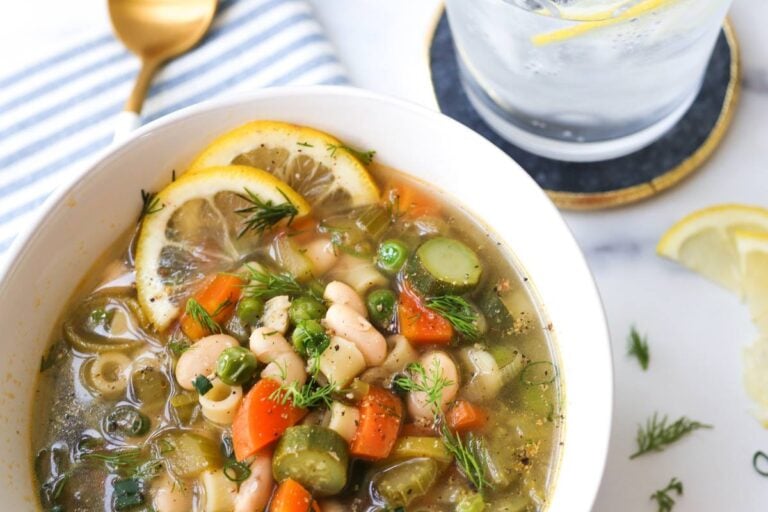 Spring Minestrone Soup
This healthy soup recipe is packed with seasonal vegetables, small bites of pasta, hearty white beans, fresh herbs and bright, fresh lemon. As lovely as those elements and ingredients are, this soup broth is over the top delicious and nutritious. Truth be told, it's guzzle-worthy.
Total Time:

55 mins.

Yield:

4

1

x
1 teaspoon

extra-virgin olive oil

1

large leek, cleaned and sliced, white parts only

2

medium celery stalks, diced

2

large carrots, diced

2

garlic cloves, minced

2

small spring onions, sliced, white parts only (optional)

2

medium-sized zucchini, diced

8

cups

of vegetable broth

1

cup

fresh English peas

1 1/2

cups

white beans, or 14.5-ounce canned white beans, rinsed and drained

1/2

cup

small pasta, such as ditalini, orzo or acini de pepe

1

lemon, halved, plus several slices for garnish

1/4

cup

chopped fresh herbs of choice, divided
Sea salt and freshly cracked pepper, to taste
Instructions
In a large soup pot over medium heat, sauté the leeks, celery and carrots in 1 tsp of extra-virgin olive oil until slightly softened, about 8-10 minutes.
Add garlic, spring onion (optional) and zucchini, plus a dash of salt and pepper, and sauté until fragrant, about 1-2 minutes.
Add 8 cups of vegetable broth, cover, bring to a boil and reduce to a simmer. Cook for 15 minutes.
Add the white beans, English peas and pasta and return to a boil. Reduce heat and simmer, uncovered, until the pasta is al dente, approximately 10 minutes. Midway through, add the juice of half a lemon and about most of the fresh herbs. Reserve slices of lemon and a sprinkle of fresh herbs for garnish.
When the pasta and vegetables are cooked to your liking, divide the soup among four bowls and garnish with remaining lemon and fresh herbs.. Other garnishes may include a drizzle of olive oil, grated parmesan and crushed red pepper. Enjoy!

Notes
Ingredients may be prepared a day in advance to save time on the day of cooking.
Frozen vegetables may be used in place of fresh vegetables, as needed.
Dried herbs may be used if fresh herbs are not available. Herbs de Provence is a beautiful choice, as are dill, rosemary, thyme and oregano.
The cooking time on this recipe lends itself to a bit of crunch to the vegetables. That is a personal preference. If you prefer softer vegetables, add a few minutes of cook time to Steps 1 and 2.
This soup freezes and reheats well for up to three months.
If making this soup for weekly meal prep or in advance of serving it, cook and store the pasta separately until you're ready to reheat to ensure it doesn't soak up all of that beautiful broth.
Author:

Prep Time:

10 mins.

Cook Time:

45 mins.

Category:

Soups + Stews

Method:

Stovetop

Cuisine:

Italian Inspired

Diet:

Vegetarian
Keywords: spring minestrone soup, spring soup recipe, healthy soup recipe, plant-based soup, plant-based recipe, minestrone soup recipe