Eat well, feel better.
Plant-forward recipes that elevate fresh, wholesome ingredients as the stars of the show … that's what you'll find here. Eating well doesn't have to be time consuming or complex.
This is simple, flavorful, feel-good food.
search by category
What can I help you find?
Get all our recipes in your inbox!
cozy soups and stews
This Southern Succotash Stew brings all the flavors of a traditional corn succotash. Corn and lima beans are the stars of this succotash recipe that we like to think of as a great big bowl of comfort.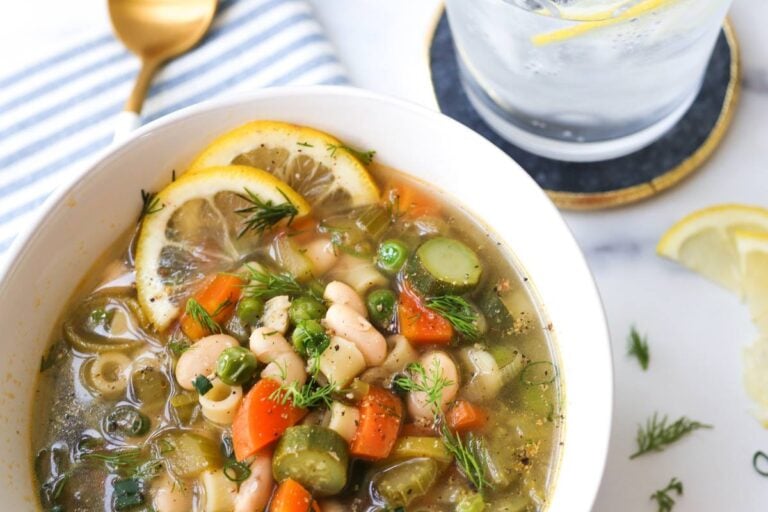 Longer days, warmer temperatures, vibrant blossoms and a heaping bowl of this Minestrone Soup. Welcome to the light, fresh flavors of springtime.
Peppery watercress, roasted garlic and white beans come together in this creamy, plant-forward soup recipe that's perfect for enjoying on a spring day or cozying up by a winter fire.
Give your body a boost with this Spicy Red Lentil Soup recipe. It's healthy, simple and darn delicious. Whether you're under the weather or a complex dinner just isn't in the cards, this lentil soup recipe is a keeper.
recent recipes …
Elevate the classic pasta salad to a whole new level with the Basil and Balsamic Pasta Salad – a simple recipe that's bursting with flavor thanks to fresh basil, mozzarella and rich balsamic vinegar.
Meat-free favorites
This heart-healthy Butternut Squash Curry with Chickpeas is approachable, flavorful and full of nutrient-packed vegetables and spices. It's a plant-powered kind of comfort that's perfect for weeknight dinner or make-ahead meal prep.
Looking for a quick and healthy soup recipe? This Moroccan Carrot and Lentil Soup is easy to make and full of flavor, making it a perfect weeknight dinner recipe.
Crisp, peppery radishes take on a softer, sweeter flavor profile in this easy roasted radish recipe. Goat cheese, fresh thyme and honey take this healthy side dish to the next level.
This nutrient-dense Carrot and Ginger Soup features clean ingredients and antioxidant-rich superfoods that include garlic, ginger and turmeric. Add carrots, butternut squash and cinnamon for a heart-healthy recipe that's packed with flavor.